Air Conditioner Recharge
Walk through the process of an Air Conditioning Recovery, Recycle and Recharge service with us.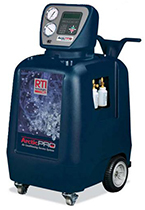 Description: Vehicle air conditioning systems can lose their effectiveness over time due to aging refrigerant or leaks in the system. You may notice that your car takes longer to blow cool air or that it doesn't get as cold as it used to. When this occurs, you Air Conditioner Recharge Machinemay need to service your A/C. We use a professional Recovery, Recycle & Recharge machine to remove the old refrigerant and recharge it with new refrigerant. This 3-step process is performed by a certified technician and includes testing your A/C system for leaks. The process only takes about 20 minutes. $89.99 price is based on 2 lbs of refrigerant – the most common amount for cars. Larger vehicles may take more and will incur an additional $19.99 per lb after the first 2 lbs of refrigerant.
Maintenance Tips/Suggestions: Our recharge process involved completely evacuating the old refrigerant and then checking the A/C system for leaks before proceeding. Our certified technician can answer any questions you may have.
Two Customers Review Our Air Conditioner Service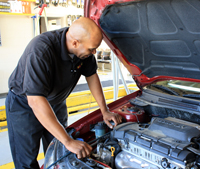 Mike Dummeyer rolled his Honda Accord into a bay at MasterLube with one thing in mind: his upcoming trip from Montana to Arizona with temperatures in the 90s predicted for the entire trip. Figuring out a way to stay cool during the long journey was at the top of his mind.
Certified technician Adrian Brown met Mike at the bay door and got started solving the cooling problem. "He took the time to show me exactly what he was doing and how the machine worked," Mike explained, "he wanted the temperature coming from the vents to reach between 50 and 60 degrees and he adjusted things until it reached the temperature he wanted."
The new air conditioner service is a 3-step process that involves completely evacuation the old refrigerant and checking the system for leaks before adding new refrigerant. The procedure is handled by a certified technician and is controlled by a computerized Recovery, Recycle & Recharge machine to be sure the system is serviced accurately without over charging.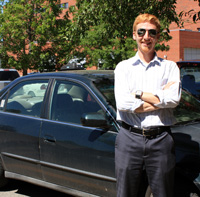 On the other hand, Ben Dorman, a local Billings man, had shorter driving distances in mind when he decided to have his A/C serviced. He uses his Dodge Ram truck to drive around town and it rarely sees any interstate driving. When he visited MasterLube, the A/C system wasn't blowing any cool air at all and technician Bill Leapaldt verified that it was indeed time for service. "I've owned the truck for about 7 years and I have never had the A/C serviced," Ben said, "It's a 2001, so I doubt it was serviced before I got it either."
The recommended intervals for servicing a car's air conditioner vary by the model and year of the car but usually can be expected to be serviced every 2 to 4 years. Vehicles older than 1994 have a different type of refrigerant and cannot be serviced by the Recovery, Recycle & Recharge machine.
Both men were happy with the technical expertise and explanation they received about the service. "The technician was very confident and able to explain things to me in a way that was easy to understand," Ben said. "They were also very friendly. Honestly all I could say when he asked how I liked the service was, "Wow! It works! It definitely works!"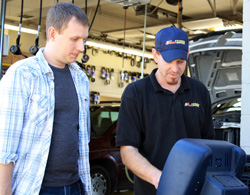 Mike took advantage of a couple other services while his car was in the store. "I told Adrian about my upcoming trip and he recommended a courtesy check of my oil and fluids and a battery check," Mike explained, "I also asked him to check the tire pressure, which he was glad to do at no charge." The inspection showed some corrosion on the battery and a couple low tires. "They added air to the tires and told me an easy, inexpensive way to take the corrosion off the battery."
After about half an hour, Mike was back on the road and feeling the benefits of the service right away. "What can I say," he said, "my air conditioner now blows cool air. I'm very glad for that!" Mike also noted that he was satisfied with the value of the service and the complimentary inspections that came with it. "I was very impressed that the tech was so diligent about getting the system to a particular temperature," he said, "he could have sent me on my way in about 20 minutes, but he took the time to carefully adjust everything until he was satisfied with the temperature coming from the vents."
The A/C service is presently available at the Heights, Grand Ave, and Downtown MasterLube locations only. No appointment is needed for this service and it can be performed during an oil and lube service or as a stand-alone service.
AVAILABLE AT THESE LOCATIONS