Air Conditioner Recharge
Walk through the process of an Air Conditioning Recovery, Recycle and Recharge service with us.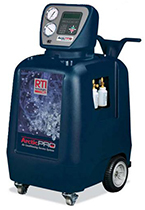 Description: Vehicle air conditioning systems can lose their effectiveness over time due to aging refrigerant or leaks in the system. You may notice that your car takes longer to blow cool air or that it doesn't get as cold as it used to. When this occurs, you may need to service your A/C. We use a professional Recovery, Recycle & Recharge machine to remove the old refrigerant and recharge it with new refrigerant. This 3-step process is performed by a certified technician and includes testing your A/C system for leaks and only takes about 20 minutes. $89.99 price is based on 2 lbs of refrigerant – the most common amount for cars. Larger vehicles may take more and will incur an additional $19.99 per lb after the first 2 lbs of refrigerant.
Maintenance Tips/Suggestions: Our recharge process involves completely evacuating the old refrigerant and then checking the A/C system for leaks before proceeding. Our certified technician can answer any questions you may have.
The A/C service is presently available at the Heights, Grand Ave, and Laurel MasterLube locations only. No appointment is needed for this service and it can be performed during an oil and lube service or as a stand-alone service.
AVAILABLE  AT  THESE  LOCATIONS