Thank you for voting in the 2019 War of the Walls Competition!
Winner will be announced on Friday, May 10.  Mark your calendars for Grad Day on May 11!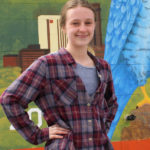 Kaylin Millsap – Billings Skyview High School
When Skyview High School senior Kaylin Millsap attended Lockwood Elementary, she was fascinated with a large mural in the school that included a birds-eye view of Billings. When she decided to submit a design for consideration for the MasterLube War of the Walls mural at the Heights location, Kaylin remembered that Lockwood mural.
"Every day I would pass by it and just be in awe of it," Kaylin said. "I haven't been to Lockwood in years, but when I was sketching my design, I remembered the mural and was inspired to incorporate it into my design."
The result is the Skyview High School Falcon perched on the Rims overlooking Billings.
Kaylin has been taking art classes all through high school and credits her family, especially her parents Chris and Teresa Millsap, for supporting her love for art. Despite her talent, she struggled with self-doubt throughout the process.
"I was always criticizing my work and telling myself it didn't look good," she said. "However, when I finished working at the end of the day and I would look at the mural and lose that self-doubt."
Kaylin is interested in pursuing a career in art and is currently in an advanced art class where she's preparing a college-level portfolio. This fall, she plans to start art classes online in hopes of becoming a freelance illustrator or graphic designer.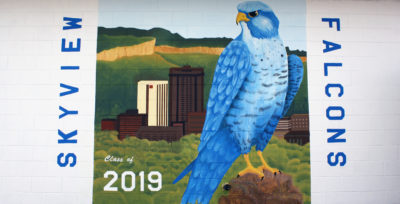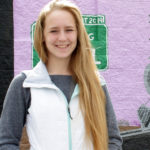 Raigan Mendenhall – Laurel High School
Laurel High School Senior Raigan Mendenhall admits she can sometimes be a bit of a procrastinator, but with the support and encouragement of family and friends she was able to finish the MasterLube War of the Walls mural just in time.
Raigan's design features a locomotive, Laurel High's mascot, and a prominent green highway sign that says "Now leaving Laurel." It's her message for 2019 graduates, and Raigan, 19, will be among those leaving Laurel and heading to college. Although she loves art and has studied it throughout high school, Raigan plans on studying pre-med at Montana State University in Bozeman.
"I love it, but I don't want to ever treat it as a job," she said. "That would take the fun out of it."
The mural posed several challenges for Raigan. Among the greatest challenges was the weather and tight timeline. She had a little help from family and friends, but the mural has been mostly her own handiwork. In the last few weeks she brought out her small painting brushes to paint in the fine details.
"Every day that it's been sunny and I've had the time, I've been over there working on it," she said.
While in high school, Raigan has been involved in National Honor Society, track and field, and has taken many honors courses. Her parents are Jacob and Mindy Bausch.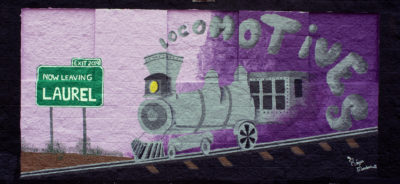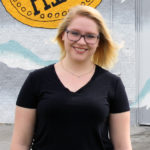 Baylee Huston – Billings West High School
Baylee Huston's War of the Walls Mural design is a bit of a break from years past. It depicts a bear, West High's mascot, set against a mountain background, with a medallion that reads 2019. Her style is streamlined and inspired by the comic books — and mountains — that she loves.
"I really wanted to make something that represents Montana," she said.
Throughout high school Baylee, 18, has taken many art classes, and has always been drawn to comic books and that style of drawing. Her drawing and design teacher Ms. Engler has been an inspiration as well as Baylee's older sister, who is also an artist.
"I've been into art since I was really little, starting with coloring books and then my doodles," she said.
Baylee is involved in Art Club and National Honor Society and was also was an assistant volleyball coach at Ben Steele Middle School. While she as an abundance of talent in visual arts, Baylee wants to be a music supervisor and work behind the scenes in Hollywood helping to design soundtracks for television and movies. She's starting with online classes through LA Film School this fall in hopes of later transferring to campus in California and earning an entertainment business degree. Baylee's parents are Brian and Donna Huston.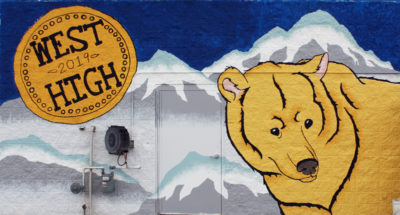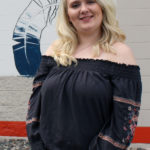 Kat Fillingham – Billings Senior High School
Kat Fillingham's action-packed mural depicts not only Senior High's classic mascot, the bronc, it also hints at the rivalry between Billings' high schools and includes feathers representing the Skyview High Falcons and a bear claw representing the West High Bears. Not bad for someone who was reluctant to turn in a design.
"It was pretty random," Kat said. "I wasn't even going to turn in a design at first."
Transferring the design from paper to the wall posed several challenges, and the worst was Kat's fear of ladders. Thankfully, a family friend offered the use of scaffolding for the project. The lines in the brick wall also posed a bit of a challenge, but Kat eventually got used to the texture.
While painting on such a large scale is new, Kat is no stranger to painting. It's her favorite medium and she enjoys realism, often working from photos. This year, her senior year, she's taking four periods of art classes in addition to her two mandatory classes.
"Art is a way I can show my emotions and my interests," Kat said.
She plans on attending art school in the fall but hasn't chosen one yet. Her family, including her parents Peggy and Dan Fillingham, has always been an inspiration and have encouraged her to pursue her passion for art. She also credits her art teacher Mr. Harmon for helping her grow as an artist.
"Honestly, he's just fun, and that's what you need to enjoy art," Kat said.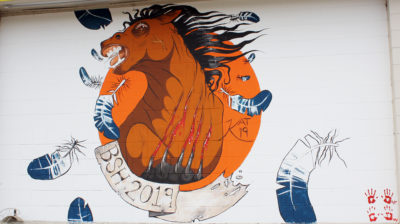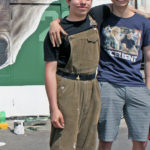 Joe La Ve' and Carter Song – Billings Central Catholic High School
Central High School's mural on the downtown MasterLube wall is the collaborative effort of Joe La Ve' and Carter Song. The two teen artists came together and overcame their friendly rivalry to create a dynamic scene depicting Central High School's mascot, the ram, as well as a cross and the class of 2019 bible verse, Ephesians 6:10 written on the horn.
"Having two different artistic styles come together is always a challenge, but Carter and I worked really well together," Joe said.
Both young men had their own painting style, but they settled on a more realistic rendition of a bighorn ram than was seen on the mural in years' past.
"Joe and I spent countless hours discussing colors, composition, and symbolism, until we were left with what we feel is a simple yet effective design," Carter said.
Joe and Carter, both 18, struggled with their tech equipment early in the painting process, and later had to navigate several rainstorms as well their busy schedules. However, the project came together with time to spare.
"This year, we've become better friends because of the mural," Joe added.
Carter, has been active in the art community at Central High for the past four years, designing several t-shirts for school sports and clubs. He also worked with administration to have pro-level art apps installed on all the schools' iPads. He plans to pursue a career in art.
"I know it's an uphill battle for most young artists to make a career out of their passion, but for me, it's worth the fight," Carter said.
When he's not painting, Carter plays heavy metal music and is in two bands. He's also a self-proclaimed film nerd and wanna-be filmmaker. Carter's parents are Kirk and Vicki Song.
During high school Joe has been active in National Honor Society, art club, Science Olympiad, and speech, drama and debate. After graduation, Joe plans on taking a gap year before college and has arranged an internship in New York City through his art business class. His parents are Kristin and Pierre La Ve'