Automotive Services
MasterLube specializes in preventative maintenance for your vehicle.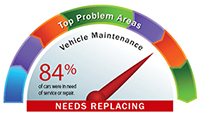 Auto technicians say the key to keeping vehicles running well-today and down the road-is routine maintenance. Yet many drivers tend to stall when it comes to keeping up with some everyday auto-basics.
A recent survey by the Car Care Council found:
25% of cars had low or dirty engine oil.
13% had low or contaminated brake fluid.
18% had dirty air filters.
17% had inadequate cooling protection.
16% needed new windshield wiper and 27% had low or contaminated washer fluid.
18% needed new belts.
Inspections are vital to your vehicle's proper operation, longevity, and safety. Inspections include checking fluid levels, tires, lights and other system components. After the inspections are complete, qualified technicians review any problems that may have been found and give you information about proper vehicle maintenance and repair. Take a look around our store or ask one of our qualified technicians about our maintenance and safety programs. We are happy to provide information and education about one of your most important and valuable assets – your vehicle.

Diesel Drivers: You can get the DEF topped off for FREE in your diesel thanks to a partnership with our local supplier of PURUS, our heavy duty house oil. Bring your diesel in and with any PURUS full synthetic 5w/40 or synthetic blend 10w/30 FA-4 (for Ford's new 3.0L PowerStroke) oil change you will get the DEF topped off for FREE.. If you choose to stick with your preferred brand of oil, or it's just not quite time for a change yet, that's ok, swing by any location and you can get your DEF filled for you for just $4.99 a gallon and like with every time you come in you're going to get all your fluids,  filters, belts, battery, and cases checked, floorboards vacuumed, and windows washed.
MASTERLUBE  AUTOMOTIVE  SERVICE  LOCATIONS