Senior High Wins 2010 War of the Walls Competition
Meet the Artists
Garrick Sather – Billings Senior High School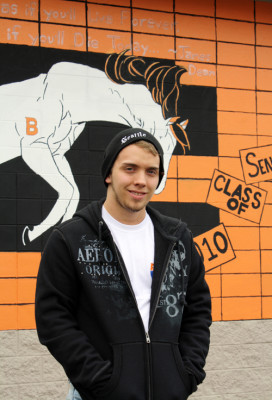 Garrick Sather has big plans.  The Billings native has his sights set on a prestigious career in art; sights that are locked in tight and set high.  He plans on becoming an animator for Disney & PIXAR Studios.  And if that doesn't work out, "Plan B" is to have his own interior design show on HGTV.
But for now, Sather, 19, is covered in latex paint and streaming itunes from his laptop nearby.  He was selected to design and paint Senior High's entry into the War of the Walls competition, and he and his team of friends are making the most of the experience.
His design features the school "bronc" mascot charging through a wall of brick painted in orange and black school colors.  "When I think of my class, I like to think of us as a bunch of free spirits breaking though the barriers of the past into the future," he explains.  Sather painted the mural over the course of a weekend with several friends and added the finishing touches weeks later.  The mural also features his class motto "Dream as if you'll live forever, live as if you'll die today" – James Dean
Sather says that he became interested in art at an early age due to a birth defect that prohibited him from participating in physical activities or sports like the other kids around him. "I was constantly in a cast," he says, "so I was driven towards a different activity – art."  He remembers his Aunt Joy sitting him down in front of coloring books and colored pencils and teaching him shading and outlining and contrast.  He also credits his art teacher, Mrs. Thayer, with giving him constructive criticism and words of wisdom.  Inspiration comes from his favorite artist, Chris Consani.
In order to become a professional artist, Sather plans to attend the Northwest College of Art in Poulsbo, WA this fall.  He hopes to launch his career as quickly as possible upon graduating.  But already, Sather has had some successes in the local art industry.  He tied for second place in the high school category of Montana's 2009 Celebrate Architecture Design Competition, recently had his senior art show, and spends a great deal of time drawing portraits for income. "I could never picture myself without art," he says.
Sather, son of Jeff and Nadine Sather of Billings, also enjoys theatre, working out and having fun with friends.  He is president of BSH's Art Club, a member of the Drama Club & Thespian Troupe 555 and is active in Venture Community Theatre.
So until Billings gets to see Garrick Sather's name in the credits of a Hollywood blockbuster, we'll have to admire the mural he left behind in his hometown.
The Billings Senior High School mural can be viewed at the MasterLube location at 1628 Grand Ave.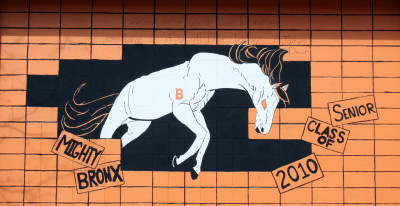 Becca Zabawa and Chase Vinger – Billings West High School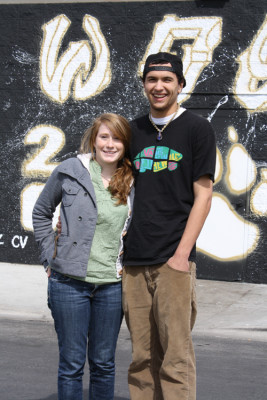 What do you get when you take two creative, gifted students and give them an oversized canvas and a lot of black, gold and white paint? Answer: One very unique piece of art.
Becca Zabawa and Chase Vinger, both 18, teamed up to create this year's Billings West High mural for the War of the Walls competition.  "Becca and I have been best friends since freshman year," says Vinger, "so doing this together was a great way for us to hang out and do something fun for our school."
And the finished piece certainly is "something fun."  The two wanted to stay away from anything "typical," so they decided on a graffiti look.  Zabawa created a look using Photoshop and the two started the mural together by blacking out the wall and literally throwing paint onto it.  "It's really just an expression of what we feel and what we think the graphic and visual world is beginning to lean towards," says Zabawa.
Besides their love of art, both students excel academically and are both members of the National Honor Society.  Vinger, son of Mark and Val Vinger, plans on attending Montana State University Bozeman in the fall and studying mechanical engineering.  Zabawa, daughter of Steve and Debra Zabawa, will attend the Brigham Young University and is hoping to study photography, graphic design, or sociology.  Both students plan to continue their art on some level after high school, but Zabawa is hoping to incorporate art into her profession. "I am hoping to be accepted into the very selective visual arts program at BYU," she says.  Her dreams include working in a field of advertising that would allow her to utilize her artistic skills and allow her to consult and plan marketing strategies with clients.
Vinger credits his introduction to art to his cousin Jerry.  "He let me borrow all of his art books and art magazines and bought me my first sketchbook," he said. "Without him, I don't think I would have the interest I have now." Vinger also played basketball for West High for four years and enjoys playing golf and ping-pong in his spare time.  He also is a member of the engineering club at the Career Center.
On the other hand, Zabawa says that the environment and different cultures really influence her work. After taking a trip to Europe, she became very interested in learning about other cultures.  "I think artwork can be a representation of different walks of life and can help bring awareness to different subjects," she explains.  She also enjoys skiing, hiking, community service and being outdoors.  She also serves as the student body secretary, the historian of National Honor Society and is a member of the Ecology Club and Amnesty International.
The Billings West High School mural can be viewed at MasterLube's West End location at 2424 King Ave W.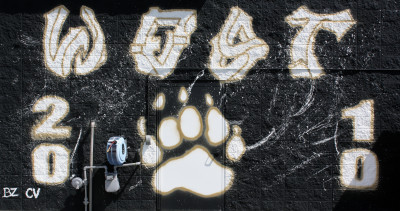 Amber Ellestad – Laurel High School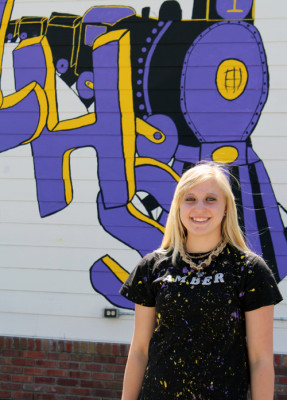 Amber Ellestad loves the outdoors.  The shear mention of four wheeling, rock climbing or camping lights up her face with a warm smile.  "I just love being out in the open space and it's nice to be outside," she says, as one would expect from a typical Montana girl.
But Ellestad, 17, got an opportunity that many people don't typically have.  She was selected through a contest at Laurel High to paint this year's school mural for the annual War of the Walls competition.  The subject for the mural was an easy choice, going with the school's locomotive mascot.  "It just started as a doodle," she explained, "and it changed and got more detailed as it developed."  The train is decked out in purple and yellow school colors and topped off with a "#1" in the headlamp.  Ellestad says that the mural represents her school, the memories of high school, and the laughs she had with all her friends.  "In a way, it's a final farewell to LHS," she says.
Ellestad grew up in Laurel with her parents Shawn and Kathy Ellestad, and although this is the first project of this magnitude for Ellestad, she has always had a special passion for art. "I love it," she says, "it's always been a very big part of my life and who I am.  It's a way for me to escape from the world.  To fall into something I love, and excel at it."  She plans to continue her art after high school and hopes to use her passion to become a tattoo artist.  She is currently exploring a tattoo internship possibility while looking at attending cosmetology school or the Denver Art Institute.  No matter what her career choice turns out to be, she plans to always paint, sculpt and work on her art books.
Ellestad finds inspiration for her art in unique places.  Sometimes they come from family and friends, but occasionally something in a stranger or a dream sparks an idea.  She also practices another art form in music; being in the school choirs for the last seven years.
After graduation, this summer will likely hold lots of camping and four-wheeling trips and time at her job as a lifeguard at the Laurel city pool.  And after a few short months, she'll be off to a professional career in the artistic world she loves so dear.
The Laurel High School mural can be viewed at MasterLube's Hand Car Wash location at the corner of 8th St W & Broadwater Ave.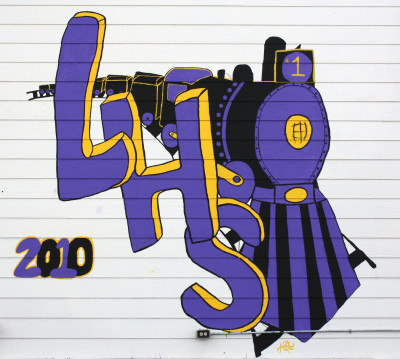 Sonja Choriki and Trace Parrott – Billings Skyview High School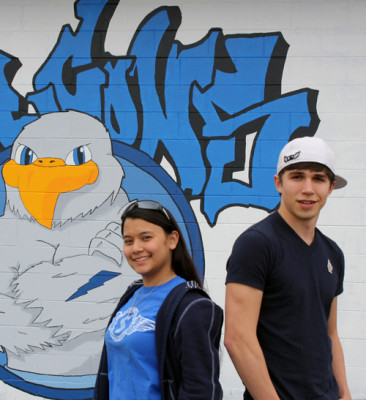 An unknown author once wrote that "teamwork divides the task and multiplies the success." Such a saying proves true when one looks at the artwork by Skyview High students Sonja Choriki and Trace Parrott.
The Choriki/Parrott team took on the task of creating a mural for this year's War of the Walls competition.  Choriki's design won the contest held by the art department to determine who would paint this year's mural.  But she knew of Parrott's talent for graffiti style artwork, so she asked him to collaborate with her on the overall project.  The final piece features Choriki's interpretation of the school mascot and Parrott's design to the "Falcons" banner above.
Despite their collaborative effort on the mural, both students have very different plans for the future.  Parrott, 18, plans to attend a 4-year college and continue his artwork "as long as I can hold a pencil," he says.  He also credits his parents, Deb and Jeff Parrott, and his long time art teacher, Mrs. Mysse, as playing a huge role in his development as an artist.  "My parents have always pushed me to keep doing art and pursuing it as much as possible. [Art] allows me to calm down and forget about everything."
Parrott enjoys wakeboarding, riding motorcycle, snowboarding and longboarding in his spare time.  He also hopes to have tattooing as an extra job aside from what he chooses as a main profession.
Choriki, 17, says that she wanted to paint the mural ever since she heard about it her sophomore year of high school. But it wasn't until a friend encouraged her that she decided to enter the contest.  "My friends have always been there," she says.  She also says that her parents, Tony Choriki and Paulette West, and stepparents, Kim Choriki and Scott West, encouraged her artwork throughout her life.  "My family is very creative and I love them dearly."
Choriki's plans for the future include going to MSU Billings and then University of Montana to study criminal justice and forensic science.  "I would like to become a federal agent and work my way up to that position by being a police officer," she says.  She plans to continue her artwork in her spare time.
Both artists bring with them previous experience painting murals.  Parrott has a piece in the art hall at Skyview High and another that he did for the basketball team.  Choriki helped paint the Lockwood Lion mural in the Sturdavent Gym in Lockwood School where she attended elementary and junior high school.
The Skyview High School mural can be viewed at MasterLube's Billings Heights location at 1331 Main Street.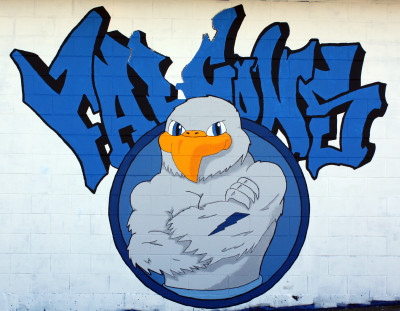 Catie Hanser – Billings Central Catholic High School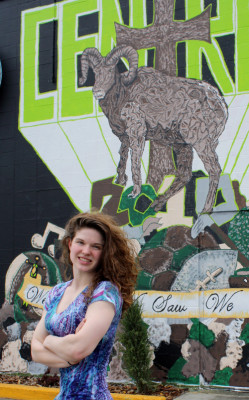 Catie Hanser believes that Billings Central Catholic High School has a lot to be proud of.  And with this year's successes in music, sports and academics, she is probably right.
Hanser, 19, is president of the Art Club, a member of Kids Connecting Kids, and part of the state championship volleyball team and swim team.  And now she can add "mural artist" to her accomplished resume.  Hanser was chosen by her peers to create the school's entry for this year's War of the Walls competition – all the way from concept to design to the finished product.  "I was really just the one who drew it," she says, "The seniors wanted to embody our class's success in music, sports, academics and religion."
Hanser remembers loving art all her life.  When she was seven she won her first art contest. "I got a pretty snazzy pink bike as an award," she laughs.  Now she finds herself slowly opening up to abstract art but still prefers realism.  "I like when artists use interesting color, different textures and brushstrokes and have meaning behind their artwork."  And the "meaning" behind her mural can be easily recognized, even to the untrained eye.  To her, the artwork represents the senior class' achievements and their bright futures.  She hopes that the class will drive by and be able to reminisce about the mark they left behind on their school.
When speaking of her artistic influences, Hanser credits her family, her parents Bill and Liz Hanser, and her art teacher of four years, Mrs. Petak.  "My family has been extremely supportive and brutally honest about my art," she says, "Mrs. Petak has helped me improve my skills and become a better artist.  She hasn't given up on me yet," jokes Hanser.
Hanser has been careful to include creativity in her future plans by working towards a minor in art at Carroll College.  Her other plans include playing volleyball for the college, majoring in Pre-Med, and continuing her artwork. "They say you do not peak [artistically] until you are sixty," she jokes, "so I have a while to go."  She also hopes to sell some of her artwork to help pay for school and she was recently included in an art show at St. Vincent Hospital.
The Billings Central Catholic High School mural can be viewed at MasterLube's downtown location at 2650 4th Ave North.