Skyview High Wins 2012 War of the Walls Competition
Meet the Artists
Daniel Montoya – Skyview High School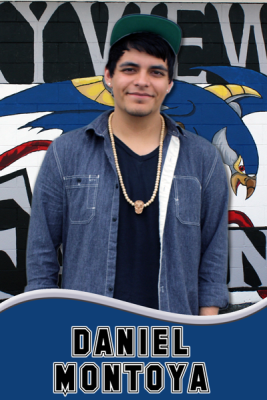 Daniel Montoya is a big fan of Skyview High.  And he says his mural artwork is a representation of both the good times and not so good times throughout his high school years.  "I just started with the Skyview Falcon and went from there," he says of his design.  He ran into inclement weather during the final days of his mural painting, but was excited to be able to paint such a large project with his friends.
Daniel, 18, is the son of Anthony and Nina Montoya and remembers loving art ever since he was a little boy.  A Billings native, he credits his mother as being the most influential person on his artwork.  "My mother is the only other artist in the family," he says, "she is a great artist and has influenced me a lot."  When not wielding a paintbrush, he also practices and enjoys another form of art – music.  He loves singing in both the high school choir and the show choir and plays several musical instruments including the piano, drums and guitar.
While attending Montana State University Billings next fall, Daniel plans to keep his artistic world open.  "I plan to continue just by doing artwork whenever I can," he explains.  Aside from his busy school and artistic schedule, Daniel also volunteers at St. Vincent hospital during the summer.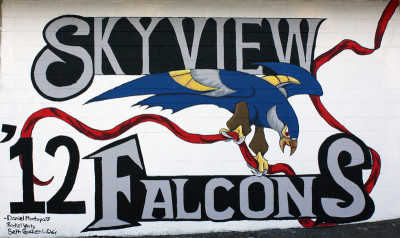 Jasper Wines and Bobby Lee – Billings Central Catholic High School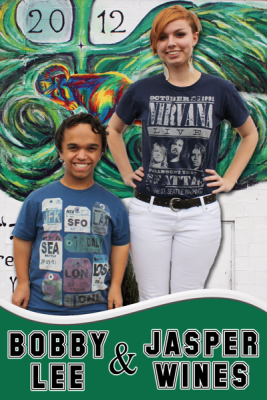 Most muralists possess a toolbox of various brushes, paint rollers and instruments before starting a new project.  But Jasper Wines and Bobby Lee, the artists behind Billings Central Catholic High School's mural, decided not to use traditional painting methods.  Instead, they tossed away their brushes and dipped their hands right in the paint.  "The brushes were not working adequately," explained Jasper, "so the vast majority of the painting was done using our fingers."  The paint covered hands on several teenagers that day was a unique sight, but so was the finished result of their project.  "This all came out of a desire to leave a mark as a class that wasn't just a representation of school spirit, but our class' skills and personality," said Bobby.  "[Our class] is colorful in personality," added Jasper, "and we are altogether awesome!"
Both students hope to continue their artwork after high school.  Bobby, son of Ernie and Kelly Lee, will attending Montana State University Bozeman in the fall and is considering a minor in Fine Arts.  Jasper, daughter of Mark and Deb Wines, will attend MSU Billings.  Both say they'll proceed with their artwork on some level, even if they end up on non-artistic career paths.
Both Bobby, 18, and Jasper, 17, say that their mothers have been most influential in their artistic endeavors.  Jasper also credits her art teacher, Mrs. Fine, for her encouragement and added that the colorful manner in which she approached this project was influenced by the art of Billings artist Harry Koyama.
During high school, Bobby also found great success on the school's Speech and Drama team, placing high at state level meets as a pantomime actor and as part of a humorous duo team.  He also enjoys knitting, reading and video gaming.  On the other hand, Jasper spends her extracurricular time working at Exotic Pets, spending quality time with friends and pursuing her newest hobby, longboarding.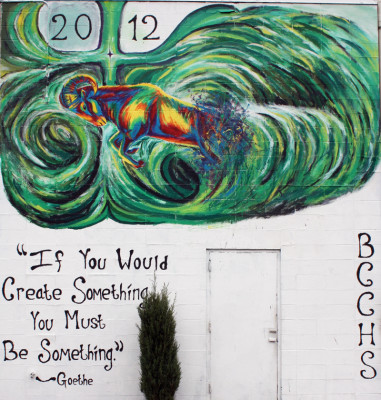 Rhea Riedlinger – Laurel High School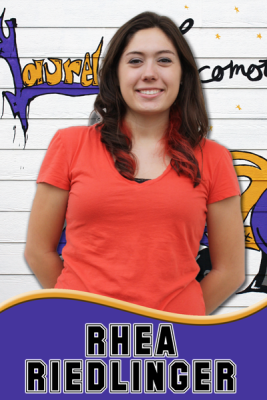 Rhea Riedlinger is a busy student.  Between attending classes, spending time outdoors, and participating in the Art Club, Leo Club, National Honor Society, Outdoors Club, S.T.A.N.D and Trading Cards, Musical and Student Council at Laurel High School, she managed to paint the high school mural at the MasterLube Hand Car Wash on Broadwater Ave.
Daughter of Brad and Tammy Riedlinger, Rhea, 18, wanted her artwork to represent the school and show how proud the senior class was to be Locomotives.  But she didn't want to paint the traditional train image that has been a consistent theme in years past.  Instead, she channeled her creativity and made the year "2012" into the train itself.
Painting is nothing new to Rhea – she's been taking art classes since the 6th grade.  "I don't think a year has passed that I haven't taken at least one art class," she says.  She hopes to someday find her work in a gallery or in someone's home as a "Rhea Riedlinger original," like that of her favorite artists Dali, Goya and Warhol.  She also finds inspiration for her artwork in everyday life. "I just look around and take in my surroundings," she explains.
Rhea plans to attend Montana State University Bozeman in the fall and pursue a double major in Studio Arts and Psychology.  She hopes to eventually earn a master's degree and use both fields of study to become a counselor who uses art as a form of therapy.
When not participating in numerous school activities, Rhea enjoys hiking, fishing, four wheeling, skiing and golfing.  She has also volunteered at Charles Campbell Children's Camp as a counselor the past two summers.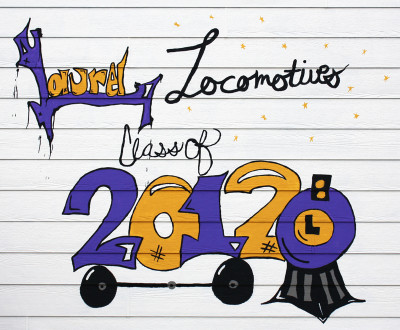 Colton Torgrimson – Billings Senior High School
Ask Colton Torgrimson what the artwork behind his mural for Billings Senior High means and he'll tell you "a dream come true!"  "I have wanted to do this since I found out about it my freshman year," the 19 year-old Colton explains, "It represents a possibility to create something that will immortalize who I was or, if nothing else, that I existed."
Colton, son of Chad and Shaelyn Torgrimson, found the large scale painting difficult to keep in perspective, but he also enjoyed experimenting with techniques to paint the unique project.  The idea for the main theme of the painting, the bronc head and smoke, came immediately.  But after showing the initial sketch to friends, they gave him the idea to make the smoke portion of the painting into the "2012" text.  "Then I thought of making the horse into a more tribal like form," he explained.  He also credits his friend Molly McIntosh for her help painting the oversized canvas.
Family members and friends have played a supportive roll with Colton's artwork.  "My mother and grandfather strongly help me to continue (my artwork)."  His grandfather, an artist in his own right as a photographer, sculpture and painter, also introduced him to several styles of artwork.  With his grandpa's help, Colton participated in "Chalk Up Helena," an annual sidewalk chalk-painting competition where he placed 1st among the judges one year and won People's Choice the following year.
Colton hopes to be able to continue his artwork after high school and throughout the rest of his life.  He plans to enlist in the US Airforce and become a career serviceman as a aircraft materialist.  He would like to stay in the service long enough to retire and then work on his art in a more full-time status.  "There will be no worries of becoming a "starving artist,"" he says.
Colton loves seeing different outdoor environments and the fun they offer.  "I'm willing to try any and all outdoor sports!"  He also works at Harbor Freight Tools and enjoys going longboarding and snowboarding.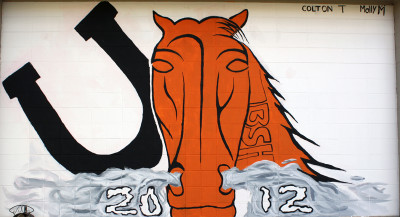 Nicholas Latimore – Billings West High School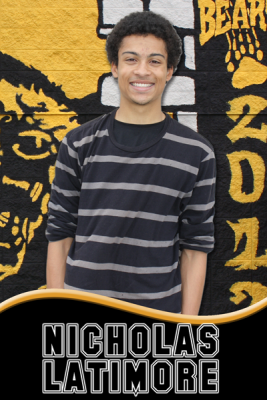 Nicholas Latimore believes that the bear mascot of Billings West High School is a great representation of their school.  "We are ready to take on anything that comes our way," he explained, "We are always striving to be the best we can be."  By painting his mural with the bear ferociously tearing through a brick wall, he felt he conveyed his feelings about his school suitably.
Nicholas, 18, is the son of Jerry and Elizabeth Latimore and was very excited to be chosen to paint this year's mural.  "It was a blast," he said, "and I am glad I got the opportunity to be able to do this project along side my friends."  He figures the most challenging aspect of the project was paying close attention to the details of the picture so that the image took shape at a distance.  But with careful precision, he and his friends were able finish the final piece exactly as they wanted.
Art has been a part of Nicholas' life since elementary school.  "I remember realizing that I was good at it when I won 3rd place in a competition in Joliet while I was in the 4th grade," he says.  He will continue his artistic endeavors next fall when he attends Montana State University Bozeman to study Graphic Design.  He also likes drawing celebrities and credits them and his family and friends as an inspiration for his artwork.  "My family and friends tell me what they think I should change in my artwork or work on to improve my talent."
Nicholas is also a member of the West High track team and attends youth group at New Life Church.