West High Wins 2011 War of the Walls Competition
Meet the Artists
Laura Wilson – West High School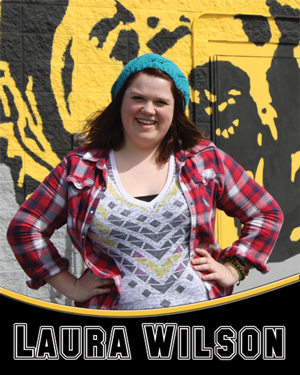 Laura Wilson isn't a drama queen – though she probably wouldn't mind being called one so long as it was a compliment to her acting abilities in community and high school theater.  Top that off with being a 4-year member of West's Speech & Debate team and a participant in West High branch of Amnesty International.  After such accomplishments, designing and painting a 10-foot tall mural may seem like a walk in the park.
Laura, daughter of Michael and Nancy Wilson of Billings, was selected to represent West High with a mural at MasterLube's King Ave location on Billings' west-end.  She wanted to be sure to represent her graduating class specifically, so she chose to include a portion of the class motto, "Forever Golden, Forever Bears" in the design.  "I felt like it had a strong, classic message," she explained.  She also knew she wanted something bold that would bring life to the piece, so she added a bright gold, roaring bear that bursts out from the gray brick background.
Painting the mural was an exciting opportunity for Laura.  "It's something I wanted to do since I was a freshman," she says.
Artistic ability seems to run in the family for 18 year-old Laura.  Early on, she enjoyed coloring pictures that her parents drew for her.  "My Grandpa Bob was a painter and I've always been inspired knowing that I have that connection with him," she says.  Everyone in her family is supportive of her love of art and Laura credits them and her art teachers, Mrs. Dolan, Mrs. Kerr and Ms. Levang as her inspiration and encouragement.  "It's an amazing thing knowing that you're being taught by people that have a real love for art."
While she realized her passion for art at an early age, Laura also discovered an interest in photography while taking a class at the Career Center.  She enjoys working in photography because she gets to work with people and, with new digital photography more readily available, it's sometimes easier to present a final image the way you envision it by using computer technology.  She even took senior pictures for a couple of her classmates.
She plans to continue her passion by attending Montana State University in Bozeman and studying art and/or photography in the fall and hopes to make a career in the artistic world.  "I can't imagine my life without art in it," she exclaims.  "It's an integral part of who I am."
Outside of her artistic world, Laura loves music, books and watching cooking shows with her mom.  She also adores living in Montana and says she enjoys politics more than most teenagers.
The Billings West High School mural can be viewed at MasterLube's King Ave location at 2424 King Ave West.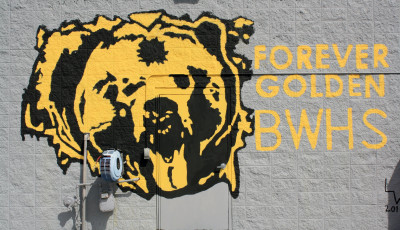 Aubrey Larsen – Skyview High School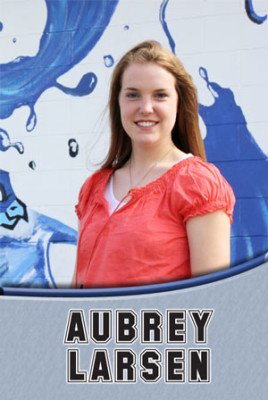 The image of a falcon coming to life and taking flight is one that could easily represent any graduating senior as they journey forward into the future.  But for Skyview High's student artist Aubrey Larsen, it's also an image that represents the process of art itself taking shape.  "I just pick up a pencil and start drawing," she explains. "Sometimes the artwork itself may choose how it wants to look."
Aubrey's mural is a unique image of a falcon emerging from bright blue paint drippings and accented in waves of silver.  "I started drawing rough sketches of falcons in different flying positions," said 17 year-old Aubrey. "Once I had the right falcon, I started elaborating on the wings and expressions.  I thought that the dripping paint was a nice touch seeing as it is a mural."
Her family also helped her with design ideas and has been a major inspiration to her artwork as a whole. "My family has been my greatest influence. They encourage me to develop my talents and pursue my passions."  She also has artists on both sides of her family that she ascribes with giving her an "artist's eye."  "I notice small details and aspects of the world that others may not notice.  Whenever I look at the mountains, a building or a flower, I look for the beauty in it.  Like the way the sun hits it at a certain angle or how in contrasts with other objects around it."  Aubrey, daughter of Don and Joan Larsen, also credits her art teachers and artists Thomas Kinkade and Jeff Smith as influences for her artwork.
Aubrey's love of art started at an early age.  "When I was a little girl, I loved to illustrate my own story books.  In elementary school, I discovered that I was very good at art and I practiced sketching, drawing and painting with a variety of tools and mediums."  Her love of art has never faded.
Aside from her artwork, Aubrey is very involved in her church, music classes and cross-country and is a member of the National Honors Society.  She enjoys playing the oboe, traveling with family, listening to music, running and taking time out of the day to stop and smell the roses.
This fall, Aubrey will continue her passion for art at BYU in Provo, Utah and major in visual arts.  She also plans to sketch and paint in her spare time.
The Skyview High School mural can be viewed at MasterLube's Heights location at 1331 Main Street.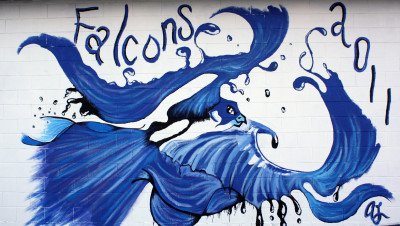 Synneva Collett – Billings Senior High School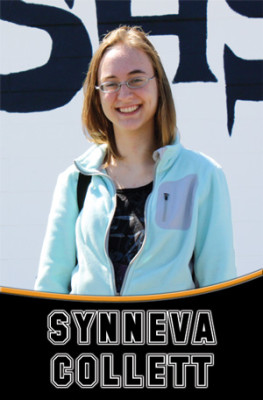 Synneva Collett's artistic endevors have always seemed to be a family affair.  And this   year, her mural for Senior High School at the MasterLube on Grand Ave. is no exception.  Her brothers, Torstein and Kjetil, climbed ladders, wielded paint brushes and followed Synneva's design carefully while they painted the mural alongside their sister.  All three of the siblings autographed the finished piece.
Synneva, daughter of Gordon and Siv Collett of Billings, wanted her mural to be an easily recognizable symbol of her school.  "I wanted to do something simple that would still create an impression," she explained.
Ever since her very first art class, an oil painting class that she took with her mother, Synneva felt a spark for artistic expression.  She finds inspiration for artwork in just about everything.  "My surroundings have had the most influence in my art," she says. "Anything that I'm exposed to could create an idea."
Synneva's "surroundings" are quite worldly.  Her passport easily has more stamps in it than most 17 year olds.  She and her family visit Norway about every other year to visit family.  Her mother grew up in Norway and their family has strong roots to the country.  In fact, Synneva's name is of Norwegian origin and means "sun gift."  She also plans on visiting Germany this summer.
While many students struggle through their foreign language requirements for school, Synneva enjoys learning new languages as a hobby.  Up until she was six years old, Synneva spoke Norwegian exclusively.  She also speaks German and is learning some Japanese.  In fact, her love of language is what prompted her to choose linguistics as her major when she attends BYU-Idaho starting in the fall.  She hopes to use her degree to do ancient translations.
While studying at BYU-Idaho is sure to keep Synneva quite busy this fall, she plans to continue her artwork as a hobby – mostly drawing and painting just for fun.  She also enjoys reading and music.
The Billings Senior High School mural can be viewed at MasterLube's Grand Ave location at 1628 Grand Ave.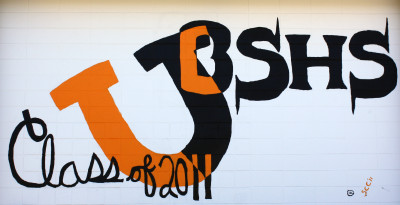 Nick White – Billings Central Catholic High School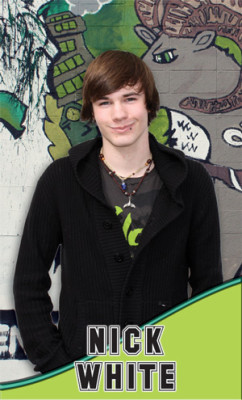 Nick White sincerely believes that art is all about having fun.  So when he was chosen to represent Central Catholic High School with a mural at the downtown MasterLube, he designed his mural to be something he would enjoy painting.  Nick, son of Jason White and Kaycee Hodges, gathered ideas from his fellow seniors so he could get a more adequate representation of the entire graduating class.  "I wanted the mural to have an urban feel to it since the school is downtown and basically in the center of Billings," he explained. "I got ideas from other seniors.  That way it wasn't just what I wanted but what everyone wanted."  He even ended up expanding and modifying his design during the painting process because of the size of the piece.
Nick's love for art began at an early age.  Both of his grandfathers are artists; one was a designer for Sunset magazine while the other has sold pieces of his own paintings and sculptings.  "They are amazing artists and I always wanted to be just like them," says Nick.
Even though Nick, 18, believes that his art, and most people's artwork for that matter, is simply about having fun, he does plan to use his talents to pursue a career in a creative field.  He hopes to become a concept artist for movies, cartoons or video games.  He plans to take his general studies courses starting this fall at MSUB and then transfer to a school with a large art program.  Although his journey to becoming a professional artist is just beginning, he has already begun earning a profit for his talents.  He designs promotional products for one company and designs hats and collegiate mascot toys for another business.
Aside from his creative endeavors, among Nick's other passions is karate.  He currently ranks as a brown belt and is working towards achieving his black belt.  He also loves hunting around Phillipsburg, The Breaks, or Ennis.  "I just like to get outside and see God's country.  My greatest passion is elk hunting."  Nick also is on the school's cross-country team and participated in track for two of his high school years.
The Billings Central Catholic High School mural can be viewed at MasterLube's downtown location at 2650 4th Ave North.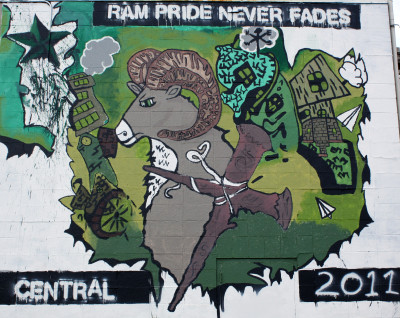 Samantha Laber – Laurel High School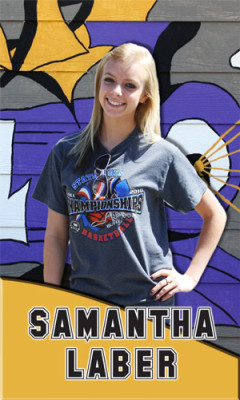 Samantha Laber is a very busy person.  When she isn't going to school, you can usually find Samantha at one of her two part-time jobs.  And during the short amount of time in between work and school, she hangs out with her best friend Samantha Brent or indulges in her passion: art.
Samantha, daughter of Stuart and Barbara Laber of Laurel, was chosen to represent Laurel High School with a mural at MasterLube's Hand Car Wash in Billings.  Another Laurel High student, Dewey Olson, 18, helped with the design and initial sketching of the mural on the building.  The two chose to represent the school as "unstoppable."  "The way we drew it," explains Samantha, "we wanted the train to look like it was bursting out of a brick wall.  The locomotives are unstoppable and that's how we wanted to represent [our school]."
Samantha, 17, says she enjoys abstract art, particularly using acrylic paint.  Since her favored style of art is different from Dewey's, the two combined their techniques to create the final piece.
Aside from her love of art, Samantha also enjoys being around children and hopes to become an art teacher one day.  "I love kids and I love art," she says.  "I know I would enjoy [teaching]."  She plans to attend the MSUB College of Technology this fall to focus on her general studies until she chooses a major.
Dewey, son of Birdie and James Olson of Laurel, also plans to continue his artwork after high school – but in a much different manner.  He plans to attend Montana State University in Bozeman and study architecture.
Both students developed their artistic skills by taking classes at Laurel High School.
The Laurel High School mural can be viewed at MasterLube's Hand Car Wash at 750 Broadwater Ave. in Billings.