Mariah LaFontaine from Billings Central Catholic High School is the winner of the 2016 War of the Walls mural competition!
Voting was held online for one week.  This year marked the highest number of voters in the contest's eight year history. Central took the prize with 70% of the votes, Laurel High came in 2nd.  LaFontaine will be awarded a traveling trophy and bragging rights for the year.
Meet the Artists
Mariah LaFontaine – Billings Central Catholic High School – 2016 Winner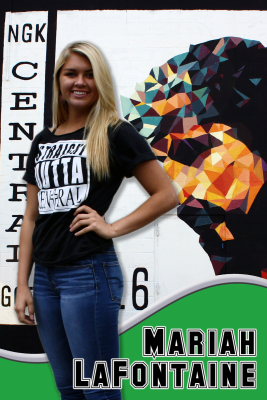 Mariah Lafontaine, 18, may have been the driving force behind the design for Central High's mural, but it was really a whole-class project. Mariah and her classmates decided they wanted to memorialize two students in their class who had passed away – one during the sixth grade, and another during their sophomore year. Those students' initials were incorporated into the bold, bright design.
"We had a lot of people working on it this year," Mariah said. "It was definitely a group effort."
From the time she was young, Mariah has always loved art. She vividly remembers being introduced to the renaissance artist Monet when she was in the second grade. Up close, the paintings didn't seem to make sense, she remembers, but when she stepped back she could see their beauty.
"I was just fascinated," Mariah said. "It was exciting."
Mariah participated in both soccer and swimming in high school and plans on attending Montana State University in Bozeman to study biology and neuroscience. She's planning on weaving a few art classes into her schedule if she can.
"I want it to always be something I can do for myself," she said.
Mariah's parents are Jason and Valerie LaFontaine.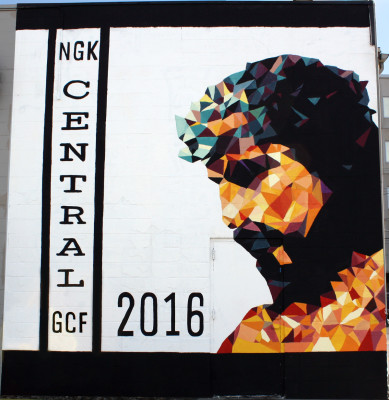 ---
Alex Newby – Billings Senior High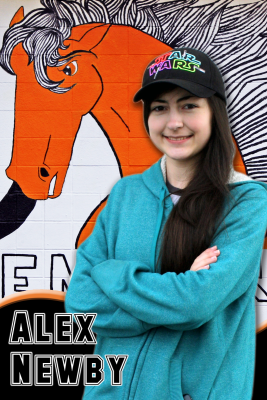 Alex Newby, 19, grew up surrounded by her great grandmother's paintings, and remembers thinking that painting was something she wanted to do. Now that she's older, she's pursued painting and numerous other art forms in her art classes at Senior High. She's currently in an independent study program, where she can focus on watercolor, her favorite medium.
She paints what she describes as a combination of fantasy and realism. She prefers human figures, and has been influenced by Japanese artwork.
"The people I do look cartoonish but look real at the same time," she said.
Her friends encouraged her to submit a design idea for the competition, and told her she should, "Leave her mark," on the school community. Alex figured if she was going to give it a try she would give it her all.
"I thought I needed to go big or not do it at all," she said.
Alex plans on pursuing art with a private tutor while she takes online courses through BYU-Idaho in Rexburg, Idaho.
Alex's parents are Jason and Jessica Newby.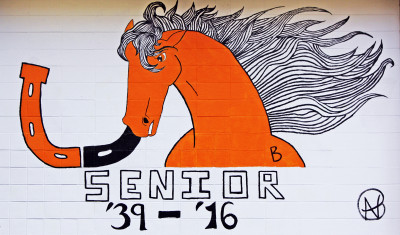 ---
Amy Mills & Elise Broberg – Laurel High School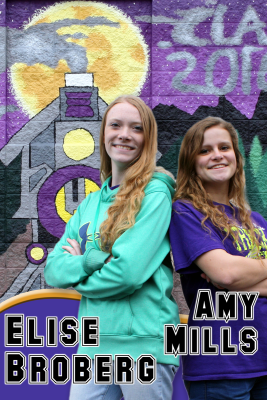 The wall at the Laurel MasterLube store was a collaborative effort between Amy Mills, 18, and Elise Broberg, 18, who have been friends since elementary school.
"I think we work really well together as a team," Elise said.
The girls opted to work off of a similar design as last year, featuring a locomotive, but made changes to make it their own.
"We just got together during study hall and started brainstorming ideas off each other and sketched it out," Amy said. "Then we went to the computer to finish the design and add color."
Elise is taking five art classes this year and has used most of her high school electives these past four years to take additional art classes.
"I really love art and want to make it my career," Elise said. "Art has always just been there. I've always had a knack for it ever since I was a little kid."
Elise plans to attend the Art Institute of Seattle and study media arts and animation. While she's explored numerous media, her favorite artistic activity is drawing in her sketchbook.
Amy has a knack for artistic endeavors as well and does a lot mixed media, using recycled materials.
"It's something I like to do in my free time," she said.
Amy is also the editor of the yearbook at Laurel High and is involved in numerous service projects for National Honor Society. She plans on attending MSU-Billings to study pre-physical therapy.
Her interest in physical therapy was piqued after she injured her knee in the eighth grade. As part of her recovery she did six months of physical therapy and liked the idea of a career where she could help people.
Amy's parents are Michael and Wendy Mills.
Elise's parents are Danny Broberg and Connie Nicely.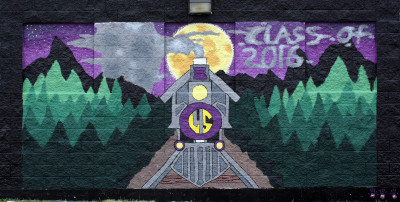 ---
Clara Kober – Billings Skyview High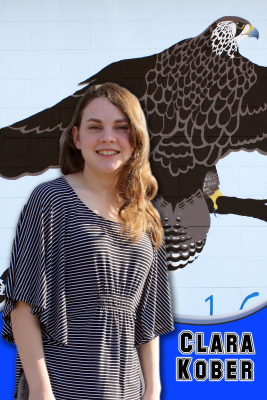 When Clara Kober, 18, was a child she was scolded for using her crayons to color on the walls. Now, she can color to heart's content, painting the MasterLube mural for Skyview High. Art has always been a part of her life and she's studied all through high school.
"I was always encouraged by my family," she said. "I remember looking at other people's drawings and paintings and thinking that's what I want to do."
Everyone in her family draws and paints, and her grandmother, who has explored art her whole life, was especially encouraging. Clara's talent comes naturally, and it's something she's used to express herself since she could hold a crayon.
Clara's mural design features a falcon, the Skyview mascot, and she said she's always been fascinated by birds, and nature. It came as no surprise that her mural features both in natural colors.
Although she has plenty of artistic talent, she's chosen to pursue her other passion, environmental studies, when she attends college. This fall, she's planning on getting a few general studies courses out of the way at MSU-Billings before heading to the University of Montana in Missoula.
When she's not painting or drawing, she's outdoors. Clara enjoys being a part of environmental conservation, planting trees and helping to raise awareness about threats to our natural world.
Clara's parents are Brent and Tora Kober.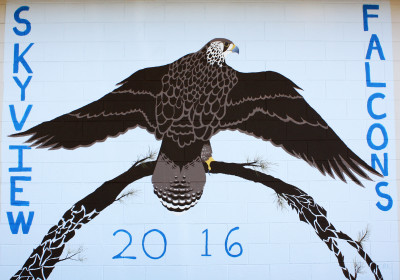 ---
Alyssa Costello – Billings West High School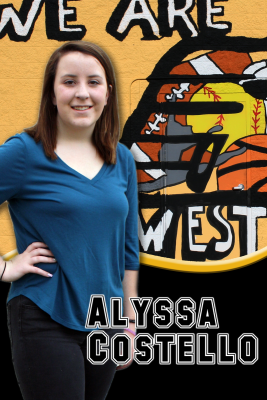 Alyssa Costello, 18, had only a single art class under her belt when she decided to enter the War of the Walls design competition, but she had proven talent in graphic design and was taking an elective graphics class at the Career Center. Her approach was a little different from other competitors.
"I used a computer to design it instead of drawing it out," Alyssa said.
When it came time to paint the design on the wall, she used light tables and a projector to trace the image onto the wall.
Alyssa and her friends enjoy high school sports and attending games. It was from those experiences that she came up with the gold and black design, which features five different sports. West is known for its standout sports teams, she said.
While she has a flair for graphic arts, Alyssa's interests lean toward the social sciences. She's planning on attending the University of Montana and studying sociology.
Alyssa's parents are Tom and Carol Costello.