Laurel High Wins 2013 War of the Walls Competition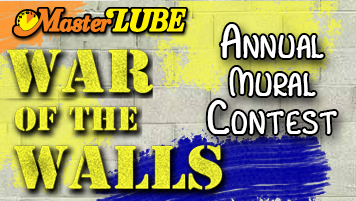 BILLINGS, MT, May 10, 2013: Taylor Ellestad from Laurel High School is the winner of this year's War of the Walls mural competition.
Voting was held on MasterLube's Facebook page and generated a record number of voters!  Laurel took the prize with nearly 35% of the votes.  West High edged out Billings Central for 2nd place.  Ellestad will be awarded a traveling trophy and bragging rights for the year.
Meet the Artists
Taylor Ellestad – Laurel High School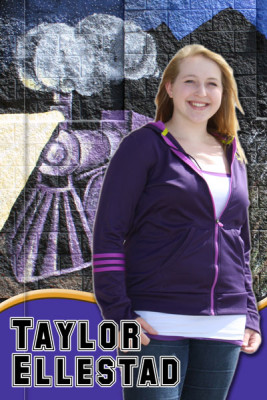 It isn't every year that an artist has the opportunity to paint a mural on a brand new MasterLube store.  And Taylor Ellestad, 18, was up for the task at the new MasterLube in Laurel.
Taylor, daughter of Shawn and Kathy Ellestad, had examined the murals from years past and wanted to do something totally different.  "I wanted to do some dynamic shading," she explained, "so I chose dawn lighting with a sunrise and then the mountains just came naturally from that."
She credits her family with feeding her love for art.  "My mom ran a daycare out of our house and we did arts and crafts every day."  She started painting in middle school and hasn't stopped since.  Her family is filled with artists, including both her sisters.  Her older sister, Amber, painted the Laurel High School mural for MasterLube's Hand Car Wash in 2010 and her younger sister Morgan helped paint this year's piece.
When is comes to continuing her artwork beyond school, Taylor thinks its important to do it only as a hobby.  "Art is my form of relaxing and expression," she says, "I feel like making it my career would fill it full of stress and defeat the purpose of doing it."
Taylor's success is not limited to her artistic passions.  She is also in National Honor Society and takes college level courses at Montana State University Billings.  She plans to attend MSU Bozeman this fall.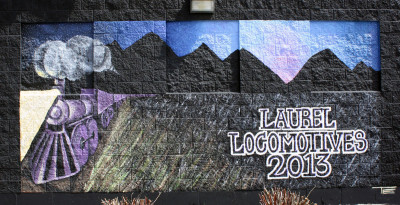 Riley Meister – Billings West High School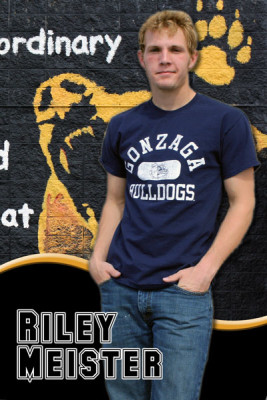 Riley Meister, 18, is hoping to catch busy drivers with a positive message within a few seconds.  That was his primary motivation behind his mural for West High. "West High is a positive part of society," he explained, "and the quote on the mural is something that should inspire."
His artwork has been a year in the making.  He created the design last year but didn't know at the time that he had to be a senior to paint the mural.  "I was ready to make my mark somewhere!" he said.
Riley, son of Ken and Kilsten Meister, has future plans far different from the creative world.  This summer, he plans to train to be an EMT and work delivering pizzas.  In the fall, he will attend Gonzaga University to study Biology and Chemistry and work towards medical school.  He also plans to participate in intramurals and debate in college.
Outside of his artistic endeavors, Riley is a member of the varsity policy debate team, runs track, plays baseball and the violin.  In his spare time, he enjoys camping, running, reading, writing, and listening to music.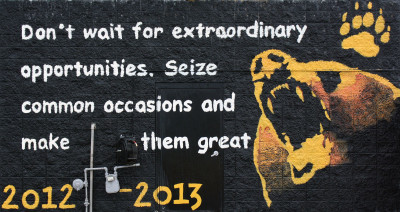 Chance Robinson – Billings Central Catholic High School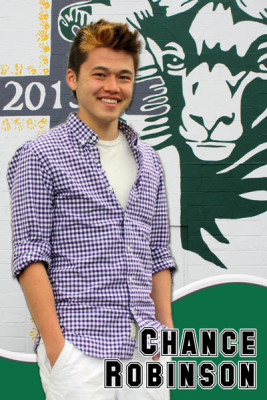 Chance Robinson knows the hustle and bustle of downtown Billings.  That's why he wanted a simple, easy to understand design for his mural for Billings Central Catholic High.  "I had to be something you could instantly understand as you drove past it," he explained.
Chance is as seasoned an artist as a seventeen year old can be.  He has painted works for several community service projects and charity events.  He's held solo art shows and studied art at Stanford University.  He was the first student to be included in the annual MayFair fundraising auction for Billings Catholic Schools.  And he has an understanding of his craft beyond his years.  "The wall mural represents the beauty in simplicity," he said, "The knowledge of when to stop and when to continue."
Chance credits his parents, Stacey and Jennifer Robinson, as well as the rest of his family and his professors at Stanford with influencing his artwork.
Outside of his work in art, he enjoys track, cross country, swimming and writing poetry.  He's also an avid traveler, with visits as far as Nepal, London, and Paris.  "I love this world we call home and I believe the more we see of this earth, the more we grow as individuals."  He plans to continue working in the creative world as a career and will attend the Art Institute of Chicago this fall to study textiles and fashion after working on multiple internships this summer in San Francisco.  He intends to continue his education and earn a Masters in Fine Arts.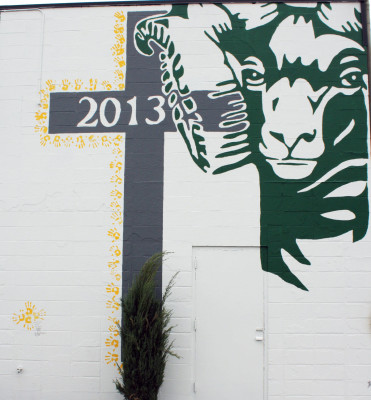 Paige Driscoll – Billings Senior High School
The concept of "change" is an inspirational theme for many artists.  And for Paige Driscoll of Senior High, that theme represented an opportunity to express not only the change within her school, but the changes taking place in her own life.  "Senior High has changed its mission statement to 'Bronc Nation,'" she explained.   To her, the switch in the mission statement, along with the opportunity to symbolize the changing student body and the diversity among the students, was her inspiration behind this year's mural.
Paige, daughter of Kirt and Lisa Driscoll, began to nuture her artistic side at a young age.  From coloring books to poetry, her love of art blossomed early.  Her great-aunt, Barb Schwarz-Karst, is also a local artist in Missoula who supported her endeavors.
Aside from her artwork, Paige, 17, works hard in other school activities.  She is a valedictorian and participates in golf, tennis, cheerleading, Senior Advocates, Trading Cards, philharmonic orchestra, and is president of the National Honor Society.  Outside of school, she enjoys spending time with her family, reading, playing the viola and piano, studying Spanish, learning about foreign countries, and is active in her church.
Paige plans to continue her artwork in the future as a hobby.  She will attend Montana State University in Bozeman to pursue a degree in chemistry with a possible focus on medicine.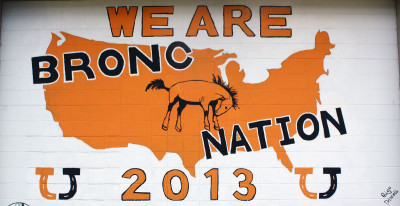 Samantha Simpson – Billings Skyview High School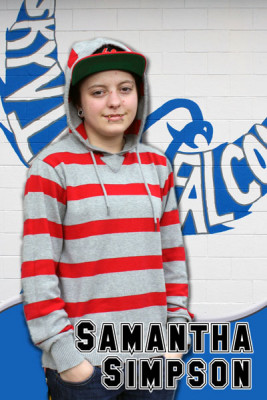 Samantha Simpson, 18, spends most of her time creating artwork on her computer.  "I'm a graphic design artist," she said.  So painting the Skyview High School mural on a giant canvas on the side of a building was a good opportunity for her to display her talent outside the glow of a computer monitor.  Her design for the painting developed simply from boredom.  On a whim during her freshman year, she drew out a unique sketch of a falcon and held on to it after her mom told her about the mural contest that she would be able to enter her senior year.
Her grandmother is also a talented artist and influenced Samantha's love of art.  Since middle school, she's taken at least two art classes a year.
The daughter of Chris and Tracy Simpson, Samantha also enjoys longboarding, playing the ukulele and photography.  She plans to continue her artistic endeavors in the future through photography.